Activity Discovering Morlaix and the bay - With family, friends or alone, you will find activities to suit all tastes - harbor-sea-business-stay Hotel du Port - Morlaix 29600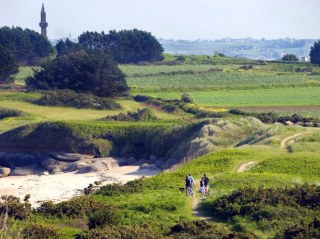 With family, friends or alone, you will find activities to suit all tastes
Discovering Morlaix and the bay
A few minutes by car from Morlaix, Finistere, and you will discover the Cairn of Barnenez with a megalithic classification, in the National Monuments Centre. Constructed around 4700 BC, it is one of the few heritage sites from an age as distant as it is mysterious.
For lovers of the sea, the Diving School at Plougasnou will accompany you in discovering the seabed. The SR Terenez Sailing School in Plougasnou offers several options: discovery courses to sailing solo, everyone can take to the sea and feel like a sailor! You can also take a train to A Fer and A Flot, and take a train and boat trip in the Bay of Morlaix.
Hiking enthusiasts will also be able to take the fresh air on the GR34, or "trail of the Douaniers", which traverses the Brittany coast for more than 1800 km. Passing through Morlaix, it offers breath-taking views of varied landscapes, such as the islets of the Bay of Morlaix and the cliff of Saint-Jean-du-Doigt.
Hotel du Port
Address: 3 Quai de Léon 29600 MORLAIX FRANCE
Activity Discovering Morlaix and the bay - With family, friends or alone, you will find activities to suit all tastes - harbor-sea-business-stay Hotel du Port - Morlaix 29600